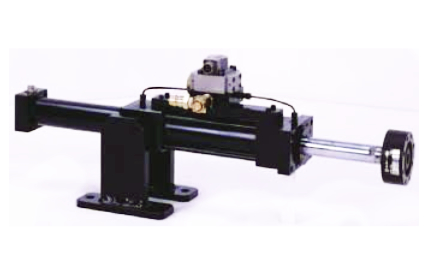 Lightweight, Compact Jack System
The JF Series Force Simulator was developed with the emphasis on light weight, compact size and ease-of-use as a general-purpose, compact jack for the Servopulser system. Testing systems installed with the Force Simulator can easily perform endurance, fatigue and simulation tests on small structural members and various other structural members, which helps improve the logical design and reliability of products.
[Features]
Lightweight
Jack (20 KN ±100 mm) weighs 25 kg. The jack's self-weight hardly affects the specimen when a dynamic load is applied.
Compact
The jack is compact, which means a small installation footprint on the specimen.
Easy handling
The lightweight and compact actuator is portable and easy to install. Hydraulic hoses are easy to connect using one-touch couplings.
Diverse Mounting Options
A wide range of optional mounting brackets allows specimens to be mounted in a variety of angles.
Testing Systems Can Be Easily Configured
Testing systems can be easily configured by combining a portable hydraulic unit, 4830 controller and test jig with Force Simulator.
[Actuator Size and Weight]
Model Stroke
±50 mm
±100 mm
±150 mm
JF5KN
Weight
17 kg
20 kg
26 kg
Overall length
565 mm
815 mm
1065 mm
JF10kN
JF20kN
Weight
21 kg
25 kg
28 kg
Overall length
570 mm
820 mm
1070 mm
JF30kN
Weight
74 kg
84 kg
94 kg
Overall length
715 mm
965 mm
1215 mm
*1: The weight includes the load cell and servo valve.
*2: The overall length is the dimension at the central position, with the load cell attached.
[System Configuration Example]
[Standard System Configuration and Main Specifications]
Model
EHF-JF5kNV-XX-A10
EHF-JF10kNV-A10
EHF-JF20kNV-A10
EHF-JF30kNV-A10
P/N
348-20708-XX
348-20718-XX
348-20728-XX
348-20738-XX
Actuator
Dynamic test force
±5 kN
±10 kN
±20 kN
±30 kN
Static test force
Approx.±7 kN
Approx.±13 kN
Approx.±27 kN
Approx.±39 kN
Effective stroke±mm)
Select 50, 100 or 150
Servo valve
Rated pressure
21 MPa
Flowrate
19 L/min (when pressure drops by 7 MPa)
Load cell
Model
SCL-5kN
SCL10kN
SCL-20kN
SFL-30kN
Controller
Model
4830
Hydraulic power supply unit
Model
AF-10B
Rated pressure
21 MPa
Pumping rate
9 L/min/50 Hz, 11 L/min/60 Hz
Other
Motor: 5.5 kW, 4-pole (drip-proof) / Constant-rate gear pump tank capacity: 90 L/ACC1L installed / Cooling method: air cooled / With casters
Pipes
High-pressure rubber hose
5 m, 1/2 inch with coupling at each end, including spiral-wire guard
3/4 inch
Utilities
Power supply
200/220 V±10 %, 8 kVA, 3-phase and 100 V±10 %, 300 VA, single-phase
| | |
| --- | --- |
| * | Other combinations of hydraulic power supply, controller, etc. also are available. Consult your Shimadzu representative for details. |
[Evaluation Targets]
Fatigue strength/Hydraulic actuation, Automobile parts/chassis
* Appearance and specifications are subject to change without notice.