History
1875
Genzo Shimadzu Sr. started the manufacture of educational physical and chemistry instruments in Kiyamachi-Nijo, Kyoto.
1877
Succeeded in Japan's first manned balloon flight.
1896
Succeeded in taking radiographs.
1897
Started the manufacture of storage batteries.
1909
Built Japan's first medical X-ray device.
1915
Started manufacture of optical measuring instruments.
1917
Reorganized Shimadzu as joint-stock company, with storage battery department established as separate company.
1920
Established Dalian office.
1930
Genzo Shimadzu Jr. was invited to the Emperor's dinner party as one of the ten greatest inventors of Japan.
1933
Developed industrial X-ray device.
1934
Developed Japan's first spectrograph.
1936
Started manufacture of aircraft equipment.
1952
Developed Japan's first photoelectric spectrophotometer.
1956
Developed Japan's first gas chromatograph.
1961
Developed world's first remote-controlled fluoroscopy system.
1963
Established New York office.
Established Tokyo Research Center.
1968
Established Shimadzu (Europa) GmbH in F.R. Germany.
1975
Established Shimadzu Scientific Instruments, Inc. in U.S.
1979
Established Shimadzu Precision Instruments, Inc. in U.S.
1980
Established Shimadzu Science Foundation.
1983
Started manufacture of analytical instruments in U.S.
1987
Started manufacture of analytical instruments in Germany.
1989
Acquired Kratos Group Plc. in U.K.
1991
Established Keihanna Research Laboratory.
Established Hadano Works.
1992
Established Beijing Shimadzu Medical Equipment Co., Ltd. in China.
1994
Established Tianjin-Shimadzu Hydraulic Equipment Co., Ltd. in China.
1996
Established Shimadzu Philippines Manufacturing, Inc. in Philippines.
1997
Established Shimane Shimadzu Corporation in Japan, a manufacturing company.
Established Shimadzu Vietnam Medical Hi-Tech Co., Ltd., in Vietnam
1998
Established Shimadzu (Hong Kong) Ltd.
Established Shimadzu (Suzhou) Instruments Manufacturing Co., Ltd. in China.
1999
Developed world's fastest DNA sequencer.
2000
Established Dong-il Shimadzu Corporation in Korea.
2001
Established Life Science Research Center in Kyoto and Tsukuba.
2002
Koichi Tanaka awarded Nobel Prize in Chemistry and Japan's Order of Cultural Merit.
2003
Developed world's first diagnostic X-ray imaging system equipped with a direct-conversion flat panel detector (FPD).
2005
Strengthened measures to develop molecular imaging instruments, a next-generation medical technology.
Established Shimadzu Device Corporation to manufacture optical components.
Established Shimadzu A-tech Manufacturing Corporation to manufacture analytical and measuring instruments.
Established Shimadzu Analytical (India) Pvt. Ltd. in India.
2006
Established three companies in Europe including Shimadzu UK Ltd.
Established Shimadzu (Guangzhou) Analysis & Technology Services Co., Ltd. in China, to perform contract analysis.
2008
Took over Mitsubishi Heavy Industries' turbomolecular pump business.
2011
Established new R&D center for analytical and measuring instruments in China.
2012
Released the FOODSEYE Food Radioactivity Inspection System.
2013
Established Shimadzu Latin America S.A. in Uruguay.
Established Shimadzu Scientific Instruments (Taiwan) Co., Ltd. in Taiwan.
2014
Established Shimadzu Malaysia Sdn. Bhd. in Malaysia.
Shimadzu Corporation Celebrates Its 140th Anniversary This Year.
2016
Established Shimadzu Manufacturing Asia Sdn. Bhd. in Malaysia.
2017
Established Shimadzu Aerotech Manufacturing, Inc., in Japan.
Established Innovation Centre in Singapore.
Acquired Alsachim SAS in France.
2018
Acquired infraserv Vakuumservice GmbH in Germany.
Established Shimadzu Industrial Systems CO., Ltd in Japan.
2019
Established Innovation Center in China.
Established Healthcare R&D Center in the head office.
Established Shimadzu Scientific Korea Corporation in Korea.
Acquired Core Medical Imaging, Inc. in U.S.
2020
Established Shimadzu Vietnam Co., Ltd. in Vietnam.
Released the Ampdirect™ 2019-nCoV Detection Kit (only available in Japan).
Released the AutoAmp Genetic Analyzer (only available in Japan).
2021
Release of World's First TOF-PET System Specialized for Head and Breast Examinations (only available in Japan).
Release of Amyloid MS CL System for Measuring Candidate Substance Potentially Causing Alzheimer's Disease (only available in Japan).
New Hydraulic Equipment Plant Completed in China.
2022
Established Shimadzu Trustech Corporation in Japan.
Making Nissui Pharmaceutical as a Wholly-Owned Subsidiary.
Shimadzu's Emblem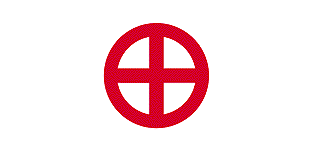 The corporate emblem, "the Circle Crossed" originates with Genzo Shimadzu, the founder of Shimadzu Corporation, who decided to use it as our trademark in 1912. Later, the emblem was scientifically re-designed into the present trademark.
The solid circular margin has a width of 1/8 the outer diameter of the circle while the cross bars are another 10% thicker. This design is based on scientific data used to optimize the beauty of uniformity as the dimensional ratios used correct the illusion of difference in widths leading to a pleasing perception of balance.
In late 16th century, when Yoshihiro Shimadzu, the lord of Satsuma Province, passed through Banshu Himeji to visit his land newly given to him by Hideyoshi Toyotomi, one of the three warriors who reunited Japan, Sohbei Inoue, an ancestor of Genzo Shimadzu was given a role to attend the lord. In recognition of the services of Sohbei Inoue, it is reported that Lord Yoshihiro Shimadzu allowed him to use the name of Shimadzu and the family emblem, "the Circle Crossed."