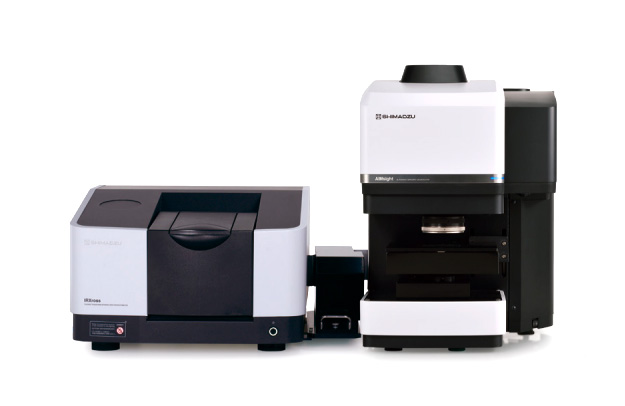 SHIMADZU AlMs to provide analysis systems for all users.
An automatic analysis system that can be used with confidence from your first analysis
Equipped as standard with enhanced functionality to support analyses
AIMsight, the Analytical Intelligence logo, LabSolutions, IRXross, and IRTracer are trademarks of Shimadzu Corporation or its affiliated companies in Japan and/or other countries.
Observe
Loading Samples Is Easy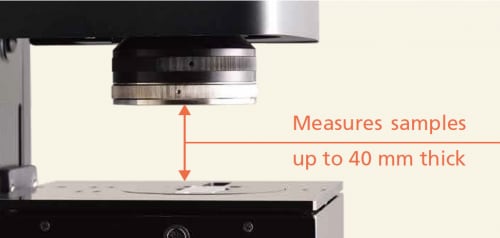 Pressing the [Eject Sample] button makes it easy to load and remove samples by automatically lowering the stage and switching the objectives to expand space. Furthermore, the lower Condenser mirror can be removed to enable reflectance/ATR measurements of samples up to 40 mm thick.
Look for the Item to be Measured
-Quickly Determine the Measurement Position-
Wide-Field Camera and Microscope Camera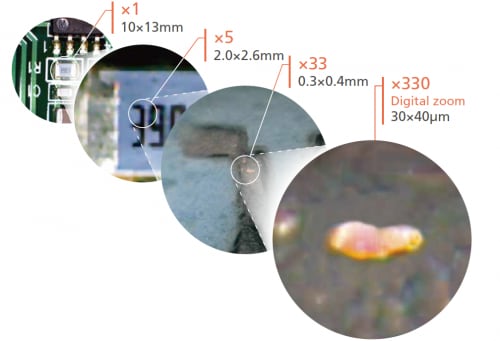 The wide-field camera and microscope camera help observe samples efficiently. In addition to observing a large area up to 10 × 13 mm, the wide-field camera also supports variable digital zooming. Furthermore, by sharing positional information with the microscope camera, it achieves a digital zoom function capable of zooming to a magnification of about 330× for observing areas as small as 30 × 40 µm. (The microscope camera supports variable digital zoom magnifications up to 10×.)
Perform Infrared Measurements Smoothly While Viewing Visible Images
– Visible/Infrared Dual View System –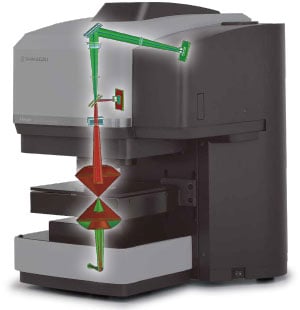 Infrared spectra can be measured while checking a visible image of the sample. Spectra can be measured while confirming the position of objects, which avoids the trouble of switching back and forth between visible light and infrared light. Used in combination with the tiling function, visible observations, and infrared measurements can be performed anywhere within the stage operating range, eliminating the need to reposition the sample.
Image view of the visible light and infrared optical path
Green light: visible light optical path
Red light : infrared optical path
Measure
Automatic Contaminant Recognition System
The functionality for automatically recognizing objects is included standard. The analyst simply clicks one button for the software to automatically recognize objects. Two types are available: the standard type or the micro type for extremely small areas, which can be selected based on the purpose of analysis. Samples can either be measured with the automatically selected measurement positions left unchanged or the analyst can add or delete measurement positions. A sample image is automatically saved for each measured spectrum. That makes it easy to confirm the sample or measurement positions later.
Perform Ultra Micro Analysis – Best-in-Class S/N Ratio-
The AIMsight has been optimized to measure extremely small areas. The AIMsight achieves a 30,000:1 S/N ratio, the best in its class. Consequently, it can quickly obtain excellent spectra from even microscopic objects.
Transmission measurement of polystyrene beads

A ø10 μm polystyrene bead was measured by transmission method. Low noise and a high-quality spectrum of a very small sample were obtained with only a small number of scans.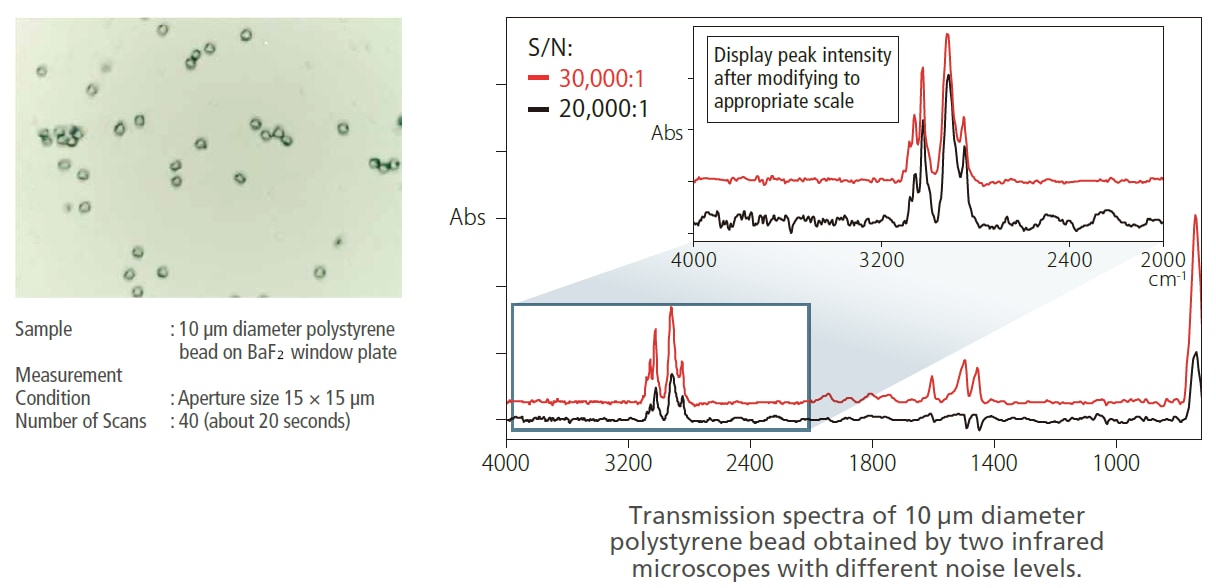 High-Sensitivity ATR Measurement – Samples with High Refractive Index –
Due to a steep incident angle for the infrared light, the AIMsight is able to acquire excellent distortion-free ATR spectra even when measuring samples with a high refractive index, such as black rubber. In addition, the Ge prism (P/N 206-32600-41) has an anti-reflective coating that provides high sensitivity.
ATR measurement of black rubber
An acrylonitrilebutadiene rubber (NBR) with 50 wt% carbon was measured with a
Ge-ATR objective. A clear peak of C=C-H out-of-plane bending mode was obtained at 970 cm-1, which was strained with a gradual incident angle.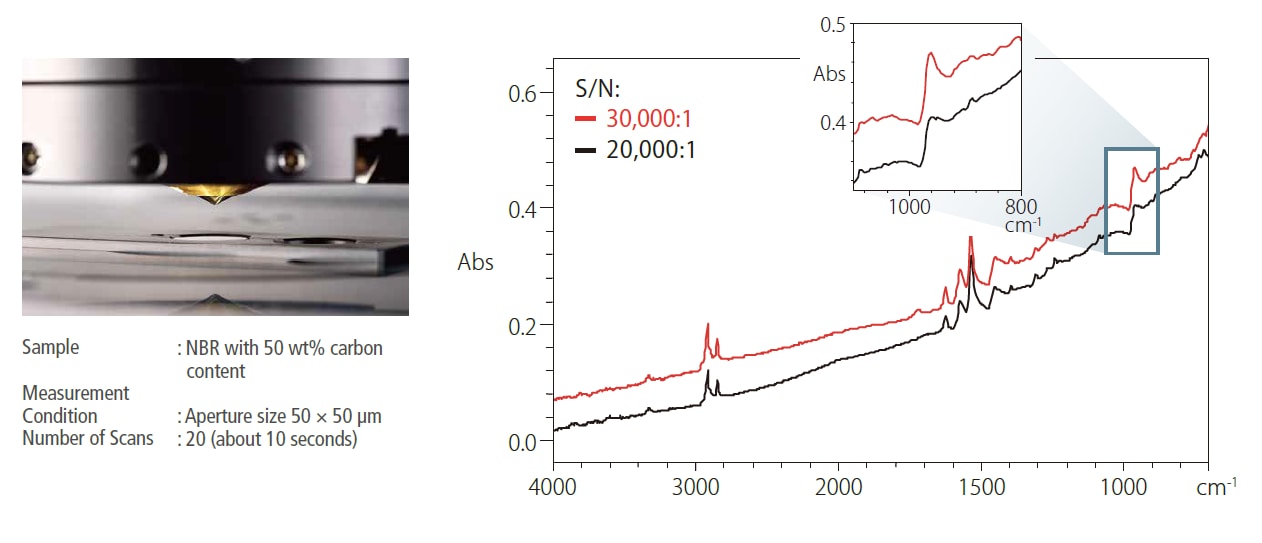 Length Measurement Function
A length measurement function has been added to AMsolution. The length of the target object can now be measured in images obtained with the infrared microscope.
In addition, with a single click, the length measurement results can be output as a report.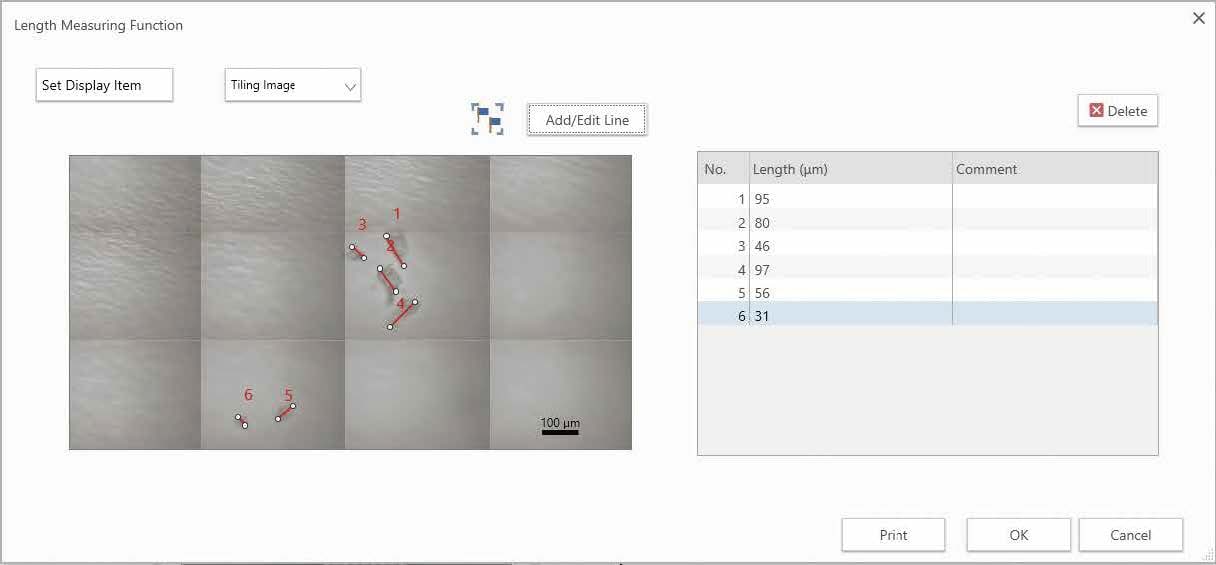 Analyze
Fully Supports the Identification of Contaminants
Various libraries are available, such as Contaminant Library, Thermally-Damaged and UV-Damaged Plastic Library.
Contaminant Library for LabSolutions IR
Thermally-Damaged Plastics Library
UV-Damaged Plastics Library
Automatic Identification of Object
-Contaminant Analysis Program-
The contaminant analysis program – the functionality for automatically qualifying objects – is included as a standard feature in LabSolutions™ IR software. Measured spectra using AMsolution can be loaded directly into LabSolutions IR and analyzed. The contaminant analysis program identifies measured objects with high precision using a spectral library for substances commonly detected as contaminants in combination with Shimadzu's proprietary identification algorithm (patent JP5205918). Even if objects are mixtures, the system searches for the primary and secondary components and displays the probability of the substances identified. It is not necessary to specify the number of components in the mixture, so analysis is easy, even for people with little experience with infrared analysis.
Spectrum Advisor Function (patent pending)
This is packaged with operations specific to infrared microscopes and advice on troubleshooting using accessories. Corrective measures are proposed by comparing the measured spectrum with measurement examples. As a result, better-quality data can be acquired.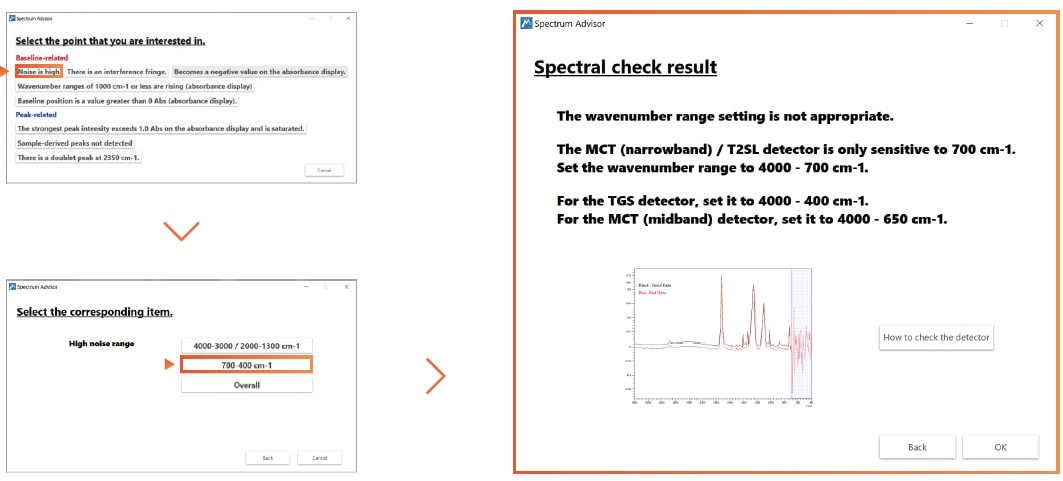 Visualize Components- Chemical Imaging* –
The invisible distribution of chemicals can be visualized based on peak height or area, multivariate analysis (PCR/MCR), or spectral similarity to target spectra.
Chemical image of pharmaceutical powder
Pharmaceutical products were rolled with a diamond cell, then mapping measurement was performed. The figure to the right represents the distribution of powder components, such as lactose, lipid, and cellulose. The color display can be switched freely between single-color and multi-color.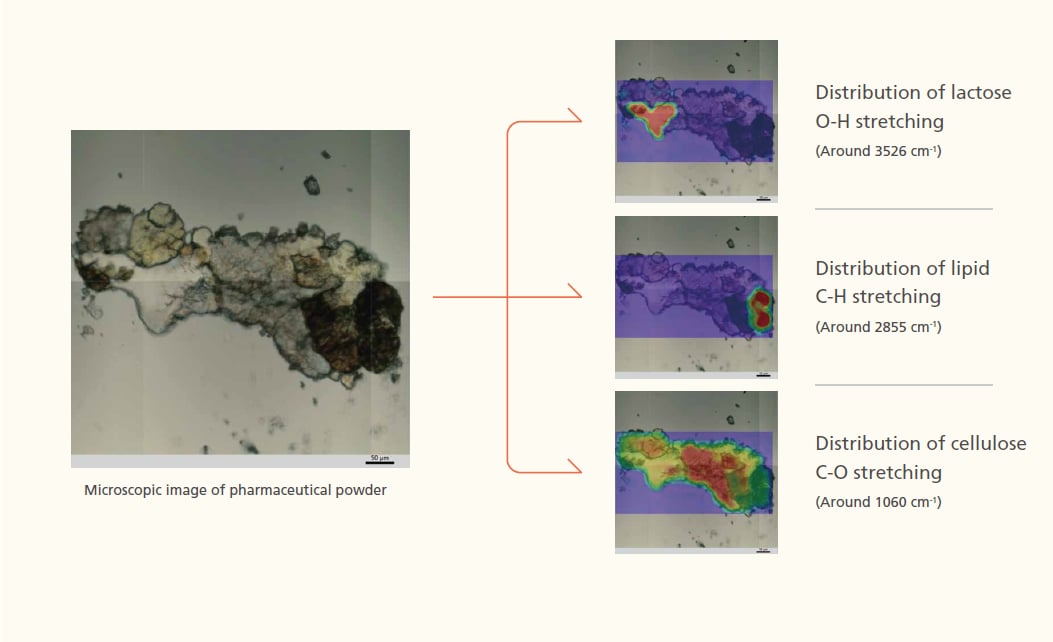 * Visualizing chemicals requires an optional mapping program (P/N 206-35093-41).