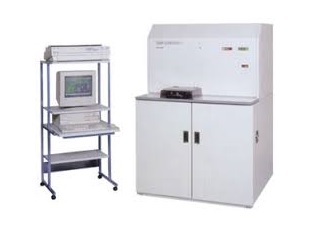 Wavelength Dispersive X-Ray Fluorescence Spectrometer The Shimadzu MXF-2400 is an improved version of the Shimadzu Multi-Channel X-ray fluorescence spectrometer, which has been rated highly in the overseas market as well as in the Japanese market. The latest hardware designed to fully utilize the principle of X-ray fluorescence spectrometry and the data processing unit that uses various software programs to permit automatic management of analysis data combine to provide high analytical productivity both in R&D and production control. Up to 36 elements can be simultaneously determined by the fixed monochrometer and up to 48 elements can be determined sequentially by the optional scanning monochrometer. High analytical precision is provided even in high sensitivity analysis of a few ppm quantity level.
Features
High level of automation and labor savingImpurity elements as well as major elements in various types of samples can be readily determined, for the purpose of quality control and R&D. About 36 elements in a sample can be determined in a minute. The operation is stable enough to permit unattended operation to save labor and running cost. The optional scanning monochrometer is convenient for automated qualitative analyses in R&D.
Quality controlThe MXF-2400 presents analytical results in a short time with excellent stability in quality control. This minimizes the number of off-grade products.
Production controlSamples may be taken form the production line and analyzed without delay. The data are fed back to control the material mixing properly. The result is stable and high quality.