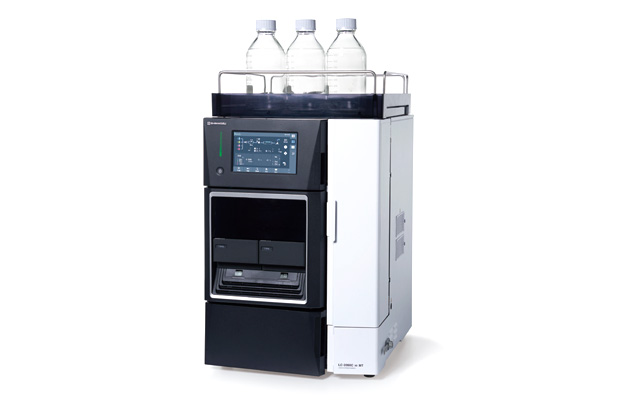 Enables Both HPLC and UHPLC Analysis
The i-Series Method Transfer System (MT system) enables both conventional analysis via its high compatibility with existing LC systems and rapid analysis via high-speed methods.In pharmaceutical development, a single integrated system allows process synthesis screening analysis for synthetic substances in the UHPLC flow line, and impurity content identification in the HPLC flow line.
Analysis results from LC systems in the same laboratory may differ, even with the same method, due to differences in the system delay volumes of these systems. The i-Series MT system demonstrates outstanding reproducibility between various LC systems with different system delay volumes, simplifying method transfer between instruments.
Further more, with the i-Series MT system the process of migrating from UHPLC to HPLC or from HPLC to UHPLC can be accomplished using a single system.
The i-Series MT system is based on the same user-friendly i-Series, but maximizes performance and reliability for migrating and transferring customer methods.
Dual Flow Lines Simplify the Process of Migrating Methods
A single integrated system allows analyses in two flow lines with UHPLC and HPLC delay volumes. In addition to simplifying the transfer of analytical methods for customers using HPLC, it can also streamline the process of converting customers' analytical methods from HPLC to higher-speed UHPLC.
Supports Method Compatibility Compliant with the United States Pharmacopeia
General Chapter <621> Chromatography in the United States Pharmacopeia specifies allowable ranges for changes to analytical parameters, so that revalidation is not necessary as long as the setting values remain within those allowable ranges. i-Series MT system includes dual flow lines for HPLC and UHPLC analysis. With two system volumes, it can support both existing analytical methods and UHPLC methods.
ACTO Function Achieves Higher Reproducibility
The newly developed Analytical Condition Transfer and Optimization (ACTO) function incorporated in LabSolutions™ allows users to transfer injection timings matched to differences in system volumes between instruments, without editing the concentration gradient programs in existing methods.
More Optimal Method Transfer with a Simple Operation
Reproducing analysis results is difficult even when the same columns and the same mobile phase conditions are used, because the gradient analysis start times differ due to differences in internal volumes between LC systems. With the ACTO function, differences in internal volume can be fine-tuned to heighten data reproducibility between different systems and streamline method transfer.
Achieves Seamless Method Transfer Process
Transfer Methods with a Single Button Operation—ACTO Function
The ACTO function also includes functionality for transferring HPLC methods to UHPLC methods. Just by loading method files prepared on an existing system and entering information about the columns used, the optimized methods will be presented for fast analysis. By selecting one of the flow lines, the function can also transfer methods from UHPLC to HPLC.
The i-Series MT system has two flow lines matched to the UHPLC and HPLC delay volumes. In addition to simplifying method transfer for customers using HPLC, this single integrated system also streamlines reviewing procedures for increasing the speed of customers' methods using UHPLC.
Designed for User-Friendly Operability
—Core Technologies That Provide a Solid Foundation for Analysis