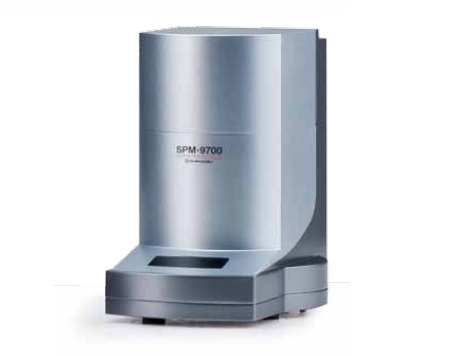 Making the Unknown Visible Scanning probe microscope (SPM) is a generic term for microscopes that scan sample surfaces with an extremely sharp probe to observe their three-dimensional image or local properties at high magnifications. The SPM-9700HT takes high-throughput observations to the next level.
High-Throughput Scanner Shortens Observation Times
Due to the new deveopled HT scanner that achieves a high-speed response and optimizing softwares and the design of control system, aquisition of the image data is now available at a speed of conventional than 5 times or more(our ratio). The scanner can easily be replaced so existing scanners can be used. The HT scanner can also be added to an existing SPM-9700 unit to enable high-throughput observation.
Analysis Example
Surface Roughness Analysis of a Vapor-Deposited Metal Film
The surface topology of a vapor-deposited metal film was observed using a scanning rate of 1 Hz and 5 Hz.
Image quality and surface roughness analysis results are equivalent.
Grating Surface Topology Measurement
The grating surface topology was observed at a scanning rate of 1 Hz and 5 Hz. The measurement by cross-section profile analysis shows that both give the same results.
High Stability & High Throughput
With the optical lever system and cantilever integrated in the head, samples can be replaced by simply sliding the head. Since samples can be changed without shutting off the laser beam, laser irradiation characteristics remain highly stable even after changing the sample. This eliminates the need to readjust the optical axis or other parameters associated with stopping the laser, which means analysis times can be shortened.
High Stability
The laser remains stable and irradiating the cantilever even while replacing samples.
Design is resistant to vibration, noise, wind, and other external disturbances, so a specialized enclosure is not necessary.
The main unit includes a built-in vibration isolator.
Secret to the High Throughput of the SPM-9700HT
Remarkable Mechanism Optimized for Ease of Operation
-Comparison of Throughput for Differences in Replacing Samples-
Cantilever Mounting Jig
This jig ensures easy and secure mounting of the cantilever.
Mount the cantilever holder on the mounting jig and fix the holder using the holder fixing knob.
Then, press the presser bar release pin.
(The cantilever presser bar lifts up.)
Place the cantilever on the slide.
Pause a moment at this stage!
You can release and pinch the cantilever again in this step!
Move the cantilever from the slide to the holder.
( The cantilever is set properly! )
Press the presser bar setting lever slowly.
The presser bar release pin will return and the cantilever will be fixed.
Applicable Cantilever Holders
Standard holders for AFM, holders for electric current, holders for minute electric current, and holders for KFM
This jig cannot be used for cantilever holders for solution cells.
Product Configuration
1) Mounting jig main unit 1
2) Hexagon wrench for adjustment 4
3) Holding case 1
4) Instruction manual 1
* Patent pending
Wide Variety of 3D Rendering Functions Using Mouse Operations
Images can be freely rotated, zoomed, and Z-axis magnification varied using the mouse to intuitively adjust the viewing angle or magnification level. Using sophisticated analytical tools, such as a texture function, which displays sample physical properties overlaid with height information, or a 3D cross-section profile analysis function, dramatically improves the efficiency of image verification work.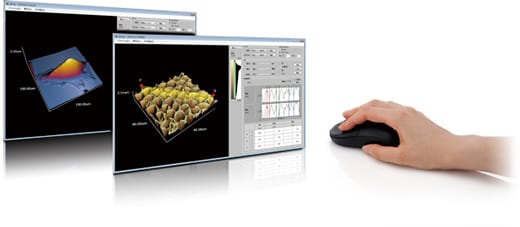 Zoom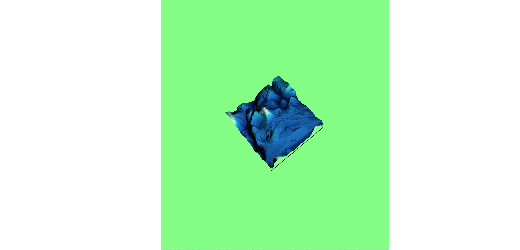 Rotation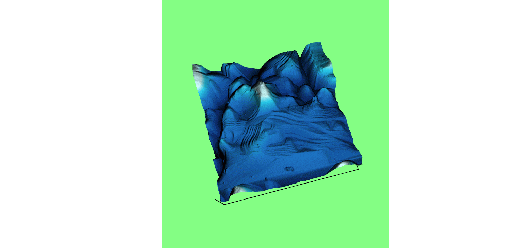 Change Z-Axis Magnification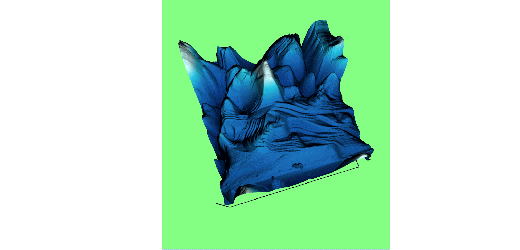 Texture Function
Height information can be displayed overlaid with information about other physical properties. This allows clearly showing the relationship between both parameters.
3D Cross-Section Profile Analysis
Cross-section profiles can be analyzed in 3D images. If physical property information is expressed in terms of texture, respective cross-section profiles can be displayed and analyzed in the same location.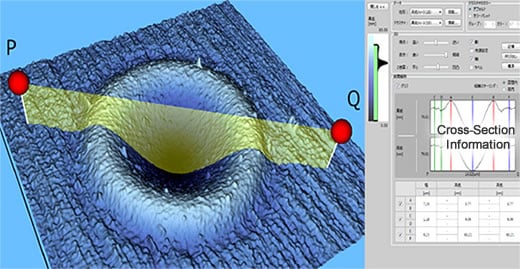 Nano 3D Mapping
Nanophysics Evaluation System
Visualizing the Physical Properties of Nano-Regions on Surface or Interface
The physical properties of external or boundary surfaces can be evaluated by measuring the force acting on a
scanning probe microscope cantilever probe as its distance from the sample is varied (force curve measurement).
The adhesive force and Young's modulus can be evaluated at a specific target location by measuring the force curve at that point (point analysis).
By acquiring force curves at multiple points, a two-dimension map of the physical properties can be created (mapping analysis).
Acquired data can be displayed three-dimensionally, or specific data can be extracted for data analysis (3D analysis).
Evaluating Physical Properties at Any Point on a Film

Force curves were measured at arbitrary points on a film surface. The results show that the adhesive force is different at the respective points.
Similarly, physical properties can also be evaluated on small soft samples, such as biopolymers.
3D Analysis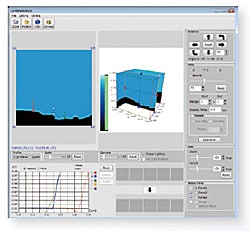 All force curves acquired for mapping are saved.
Therefore, the data can be displayed three-dimensionally, or specific cross sections can be extracted for data analysis.
Mapping the Physical Properties of Plastic Films

Mapping analysis can be used to measure adhesive force and Young's modulus as well as surface topography. The figure shows a quantitative visualization of the Young's modulus within a localized area only 300 nm wide on a plastic film surface. (Sample source: MORESCO).


Application example: Evaluating the uniformity of a polymer material surface
Adhesive Part of an Adhesive Tape
These images are from an evaluation of the adhesive part of an adhesive tape. They show that the adhesive force is distributed non-uniformly. This demonstrates how the system can be used to evaluate adhesive properties, which were difficult to evaluate using conventional methods.
Main Specifications
Force Curve
Scan (Z) range
Settings method
Specify end point and width, and automatically track end point
Range
Depends on scanner
Scanning speed
Frequency setting
0.1 to 100 Hz
Frequency setting step size
0.1 Hz
XY movement
Settings method
Numerical entry, or speciƒed with mouse on SPM image
Range
Depends on scanner
Display
SPM image data, force curve waveform, measurement parameters, and data analysis results
Mapping
Measurement
Physical quantities measured
Adsorption force, slope of force curve, Z-position, or elastic modulus
Range
Depends on scanner
Resolution
512 x 512, 256 x 256, 128 x 128, 64 x 64, 32 x 32, 16 x 16
8 x 8, 4 x 4, 2 x 2
Display
SPM image data, force curve waveform, and measurement parameters
SPM-9700 Scanning Probe Microscope
Ease of Operation Minimizes Distraction from Observation to Analysis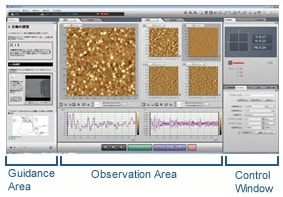 A guidance function to guide users through procedures, a navigation function that eliminates uncertainty about the observation position, and other features help ensure observations can be performed quickly and smoothly.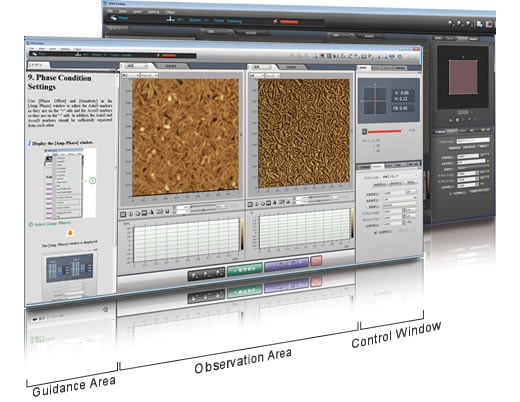 A revolutionary layout-free user interface (GUI) is used that provides borderless support for operations ranging from online observation to offline analysis. This means the SPM can be operated from observation to determining observation position and obtaining observation results without confusion.Operate Without Confusion
From startup to observation and analysis, the SPM can be operated using only mouse-clicks, without requiring any complicated settings
(1) Startup
Select the observation mode in the [Manager] window.
(2) Setup
Follow the steps indicated in the guidance window to easily complete setup.
(3) Start Observation
Clicking the [Observation Start] button performs all operations automatically, from approach to observation.
(4) Display
Image data obtained in the past can be viewed without switching offline.
(5) Offline Analysis
A wide selection of functions for displaying, processing, and analyzing images are available for expressing observation results more attractively and quantitatively.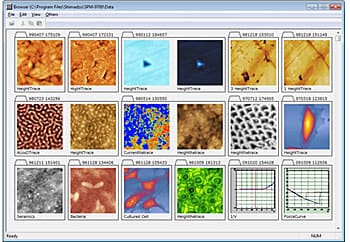 Determine the Observation Position Without Confusion
(1) Observation Window
Up to 8 images can be displayed simultaneously. This means the surface shape and physical properties can be compared in multiple images, while scanning.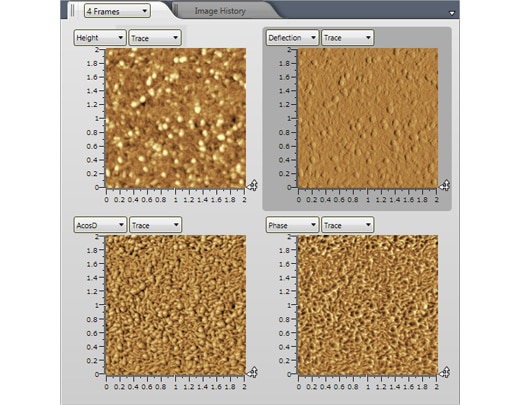 (2) Navigator
The Navigator clearly shows what area is being observed. Since previously observed images can be displayed, this enables obtaining an overall view of the entire sample.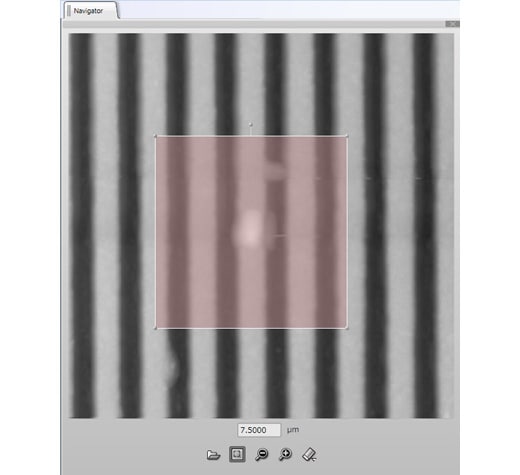 Obtain Observation Results Without Confusion
(3) Online Profile
Cross-section profiles can be measured in the online window while observing samples.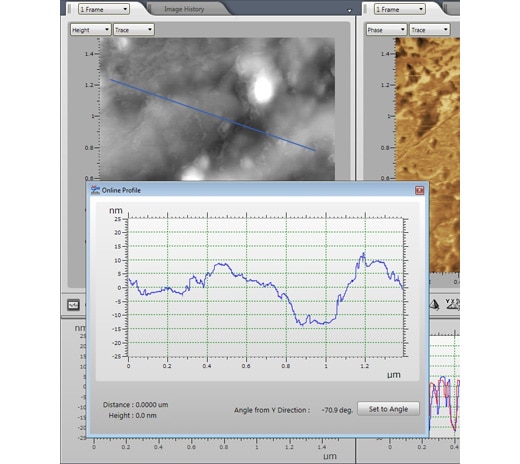 (4) Image History
Past image data can be displayed next to current observation images for comparison.
Wide Assortment of Scanning Functions
(5) Force Mapping
A force curve can be measured for each point in observed image data to acquire a distribution of sample mechanical properties or adhesion force (special order).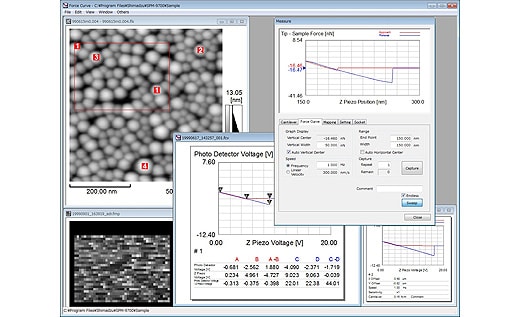 (6) Vector Scanning
The scanning direction, force between the probe and sample, or the applied voltage can be programmed to allow scanning according to a program (special order).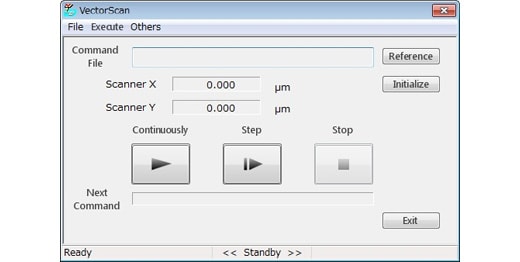 Functionality and Expandability to Meet a Wide Range of Requirements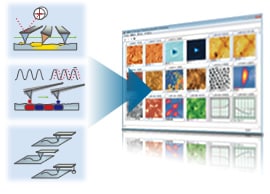 A generous selection of measurement modes and excellent expandability helps ensure reliable measurements, regardless of the properties that a wide variety of samples may have, such as hardness or electrical conductivity.
With a generous selection of measurement modes, images can be obtained that show other information besides the sample shape, such as electrical current or electrical potential levels, or surface hardness or viscosity properties.
Standard specification

Contact Mode


Dynamic Mode



Phase Mode


Lateral Force Mode (LFM)
Standard specification

Force Modulation Mode

Optional Functions

Nano 3D Mapping


Current Mode


Surface Potential Mode (KFM)
Optional Functions

Magnetic Force Mode (MFM)


Vector Scanning (special order)


Petri Dish Type Solution Cell (special order)


Electrochemical Solution Cell