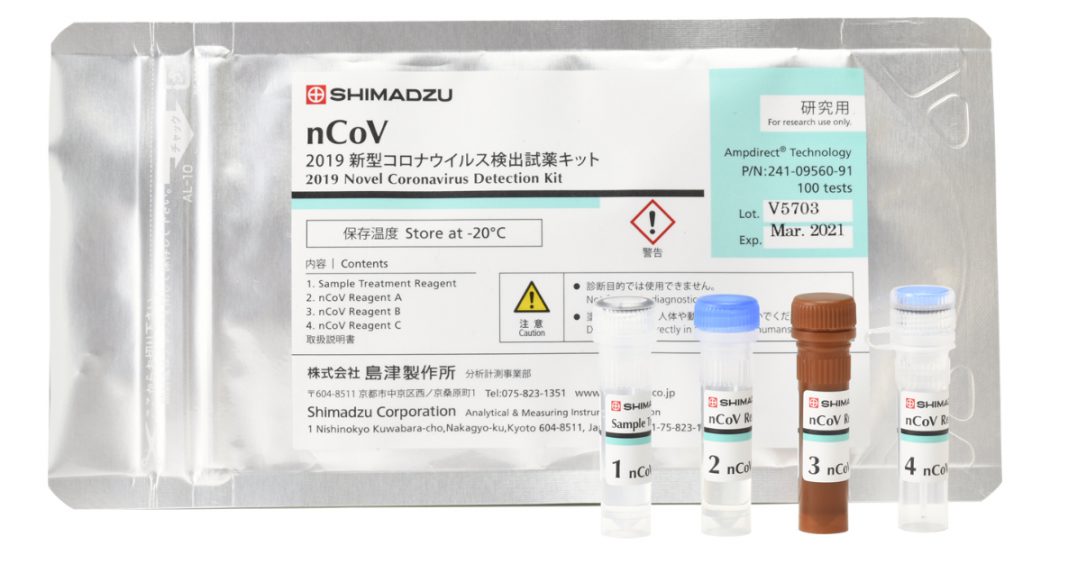 Thai Version | English Version
April 13, 2020
Shimadzu Corporation is announcing the release of its "2019 Novel Coronavirus Detection Kit", with sales beginning on 20th April. For the time being the kits will only be available in Japan, but preparations are underway to export these kits overseas from May onwards.
Current PCR methods for the detection of the novel coronavirus (SARS-CoV-2) require the labor-intensive steps of RNA extraction and purification from samples collected via nasopharyngeal swabs or similar. This presents an obstacle to rapid detection when dealing with large numbers of samples. This detection kit eliminates the steps of RNA extraction and purification, significantly reducing the amount of work required to prepare samples, and moreover halves the overall time required for PCR detection from over 2 hours to approximately 1 hour. When using a PCR device with the capacity for 96 samples, the workflow for all 96 samples can be completed within 1.5 hours. In addition, the omission of manual RNA extraction reduces the risk of human error.
The "2019 Novel Coronavirus Detection Kit" uses Shimadzu's unique Ampdirect technology*1 and has been developed based on the pathogen detection manual from the Japanese National Institute for Infectious Diseases*2. This technology works to prevent proteins, polysaccharides, etc. contained in the biological sample from inhibiting PCR, allowing the PCR reaction solution to be added directly to the biological sample without the need for extracting and purifying DNA or RNA. Until now, Shimadzu has developed and released pathogen detection kits using Ampdirect technology for detection of enterohemorrhagic E. coli, salmonella, norovirus, etc., and is now applying this well-cultivated technology to detection reagents for the novel coronavirus.
---
Key Features
1. Quick and simple workflow
The kit includes all the reagents needed for immediate PCR testing. The whole workflow, including preparation of reagents and samples, pretreatment (heating), reaction and detection, can be completed in approximately 1 hour. No time-consuming RNA extraction is required and the sample can be prepared simply by adding the pretreatment solution and heating. This both reduces labor and prevents human error. For example, when using a PCR device with the capacity for 96 samples, the workflow for all 96 samples can be completed within 1.5 hours (15 mins for adding pretreatment solution, 5 minutes for heat-treatment, and 65 minutes for PCR, totaling 85 mins).
2. Improved accuracy
When testing samples with PCR, there is a risk that amplification of genetic material in positive samples may not occur due to human error etc., resulting in a false negative. The reagents in this kit contain a reference component so that the user can check whether the amplification stage has proceeded correctly. This reduces the possibility of a false negative and leads to more accurate results.
Caution: This kit contains reagents for research use only. It has not been approved or certified as In-Vitro Diagnostics under the Japanese Pharmaceuticals and Medical Devices Act. However, its efficacy has been tested according to protocols dictated by the Japanese National Institute for Infectious Diseases, and is included in their notice "Regarding genetic testing methods for 2019-nCoV that have been evaluated using clinical specimens" (9 April 2020 edition), which forms the basis for insurance-approved test.
To use this kit, specialist equipment is required such as a PCR device, dispensing pipettes, a thermal bath, and a small centrifuge, as well as equipment for appropriate handling of samples and genetic material. As such, there are no plans to sell this kit to individuals for personal use or to retail stores such as drug stores.