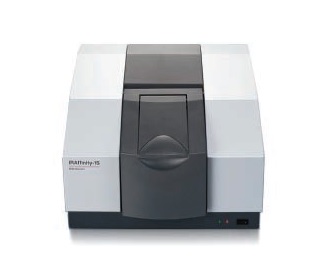 The interferometer of IRAffinity-1S is continuously optimized by a dynamic alignment mechanism, and a built-in Automatic Dehumidifier helps ensure ease of maintenance. The IRAffinity-1S offers the high SN ratio (30,000:1, 1-minute accumulation, neighborhood of 2,100 cm-1, peak-to-peak), a maximum resolution of 0.5 cm-1, and compact dimensions. Furthermore, the high-performance LabSolutions IR software, which emphasizes operability, and analysis support programs (Contaminant analysis program and Pharma Report program) make it easier to perform data processing and analysis.
Reliable performance and easy maintenance
Through the incorporation of a high-energy ceramic light source, a temperature-controlled, high-sensitivity DLATGS detector, a high-throughput optical element, and the optimization of the electrical system and optical system, the IRAffinity-1S achieves the highest SN ratio in its class.
Beam splitters in the interferometers of FTIR instruments are susceptible to humidity. In order to maintain the long-term stability of the interferometer, the beam splitter must be protected.
In the IRAffinity-1S, the interferometer is airtight and incorporates a unique internal auto dryer.
An automatic dehumidifier and dynamic alignment enable easy maintenance of the interferometer.
The IRAffinity-1S's interferometer is optimized and stabilized using a combination of a smooth moving mirror system and the Dynamic Alignment. To assure that the IRAffinity-1S is always in the optimum operating condition, a self diagnoses routine monitors the operation of the system at initialization and constantly during operation In addition, standard EP/CHP/JP/USP/ASTM validation programs are provided to evaluate the FTIR performance.
Incorporation with Dynamic Alignment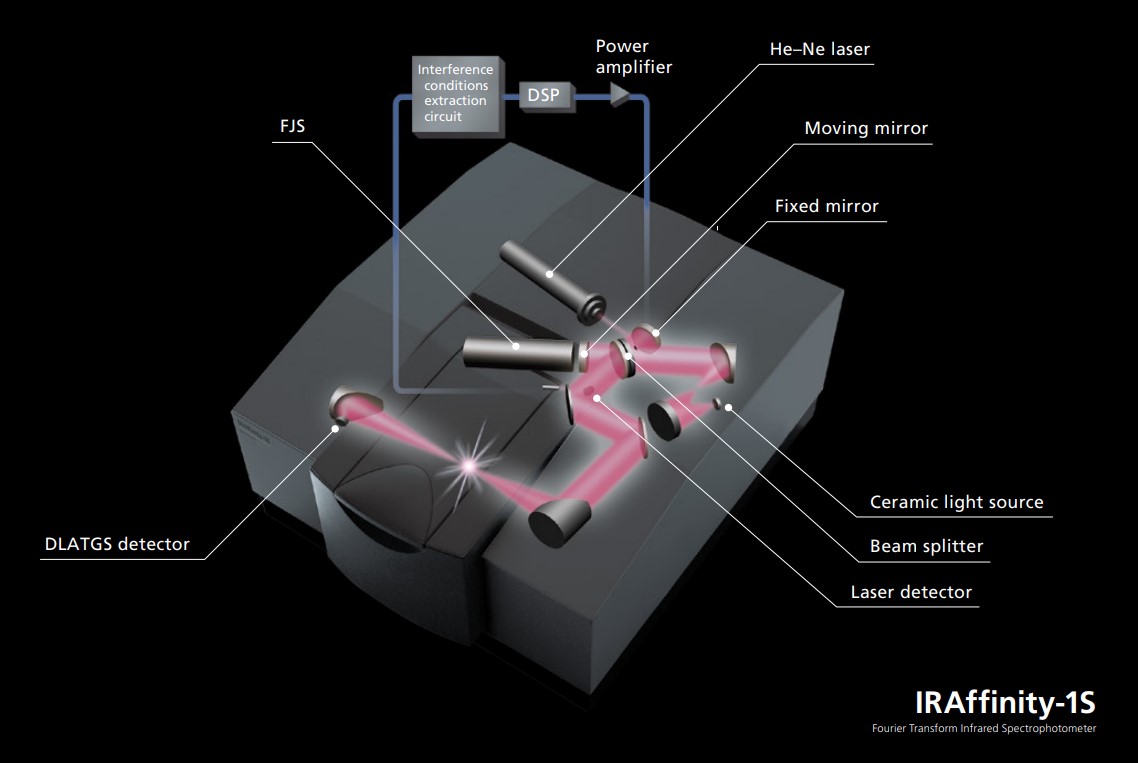 Achieving reproducible optical interference in a spectrophotometer requires a robust interferometer design. The interferometer in the IRAffinity-1S easily meets this requirement. The smooth moving mirror system monitored by the Dynamic Alignment system allows the IRAffinity-1S to provide optimum and stable quality spectra after only a short warm-up time. Sampling at over 5000 times /second the Dynamic Alignment keeps the IRAffinity-1S in optimum operating condition.
Four Benefits of Dynamic Alignment

■ Removes the influence of environmental variations
■ Allows the FTIR to be powered off when not in use*2 (saving electricity and reducing the environmental impact)
■ Shorter warm-up times and enhanced stability
■ Provides for a maintenance-free system
*2 Automatic Dehumidifier is working.
Built-in Automatic Dehumidifier Allows for Easy Maintenance

Beam splitters used in FTIR interferometers are susceptible to humidity. In order to maintain the long-term stability of the interferometer, the beam splitter must be protected from moisture. To address this issue, the IRAffinity-1S has been engineered with an airtight interferometer that incorporates a unique internal Automatic Dehumidifier.
New Generation of Workstation
LabSolutions IR, a member of the LabSolutions family, has been optimized for network applications, includes an extensive library of spectra, and features a high-performance search function. In addition, Macro functions provide automation and labor savings.
Fast, Easy-to-Use LabSolutions IR Series Software
LabSolutions IR easily executes FTIR operations such as scanning, data manipulation, quantitation, reporting, saving, user administration, and more. High-level administrative functions and a variety of data manipulation functions provide for an easier, more user-friendly analysis environment. In addition, numerous optional programs are available to address all modern laboratory needs.
Run Dedicated LabSolutions IR Programs or Windows Applications Easily with the Dedicated LabSolutions IR Launcher.

LabSolutions IR includes a number of dedicated programs, including Postrun, Spectrum, and Quantitation, which are easily launched using the LabSolutions IR Launcher. In addition, macro programs and Windows applications can be registered with the LabSolutions IR Launcher for quick and easy start-up.
Network Features
High-level security and user administration functions.
Suitable for ERES regulations such as FDA 21 CFR Part 11, PIC/S, and more.
Management of FTIR as well as LC and GC data by the server on a network.
With terminal service, LabSolution IR can be controlled from a client PC without installing LabSolutions IR on it.
Programs
Postrun, Spectrum, Quantitation, Photometric, Time course (option), Mapping (option)
All of the Postrun and measurement programs have a common Main toolbar, Menu, Measurement toolbar, Tree view, and Log window. The operation of each program is also similar, providing a familiar feel no matter what task you are working.
Extensive Spectra Library and High-Performance Search Function
Features a library containing approximately 12,000 spectra.
Enables high-quality searching with standard libraries.
High-performance search methods, including Spectral, Text, Combination, and Peak searches.
Shimadzu's unique search algorithm provides precise search results.
Reporting
Easy printing using the ViewPrint function and Free-layout reports.
Macro Program Functions Provide Automation and Labor-Savings
Simply align steps to create a Macro program.
Automated identification tests and contaminants analysis.
Data Manipulation
A wide variety of data manipulation functions, including Advanced ATR correction and Kubelka-Munk conversion, and quantitation functions, such as the multi-point calibration curve method and CLS method, are standard.
Meeting the Needs of a Wide Range of Analyses
A wide variety of programs and accessories is available in order to meet the needs of various customers.
Customize Your Own IRAffinity-1S System
You can customize your own IRAffinity-1S system with a wide variety of accessories and easy-to-use software options to meet the needs of your specific application.
Pharmaceuticals, Cosmetics, Food Products, Environmental, Chemicals and Polymers, Electrical, Electronics, and Semiconductors, Automobiles, Metals, Construction, Academia
Two Main Application Programs Support All Analyses
LabSolutions IR includes two main application programs – for contaminant analysis and identification tests.
Even operators unfamiliar with FTIR analysis can easily use these programs and create reports in just a few seconds.
Contaminant Analysis Program

Combining Shimadzu's own algorithms (patent pending) with that of library spectra for common contaminants, this program identifies contaminants with a high degree of accuracy. This easy-to-use program is conducive to all levels of operators. Reports are automatically created after analysis, allowing operators with little knowledge of infrared analysis to easily perform analysis.
Identification Test Program

This program makes pass/fail judgments about samples in accordance with the tests specified in the Pharmacopoeia. In addition to identification tests for pharmaceutical products, this program can be used for incoming and pre-shipment inspections.
Hardware Options
Integrated with sample compartments, the series of horizontal ATR accessories offers improved purging performance, and eliminates the concern of dust entering the IRAffinity-1S's sample compartment. When an accessory is installed, the software displays its name and serial number and sets the optimum scan parameters.