Thai Version | English Version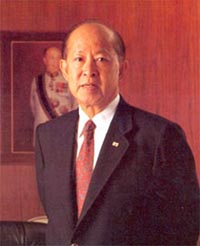 Message From Chairman
Established in 1953, Bara,Windsor & Co., Ltd. Has successfully grown into a world class trading and manufacturing company with an international supplier and distribution net work. While much has changed, One thing has not : our priorities on product innovation, business development, productivity enhancement, human resource development. technical upgrading and so on through modernization and globalization of the management. Our original philosophy, "Honesty, Integrity and Fairness," also remains the same…. but it has been enhanced through the modern concept of "Management by Objectives" (MBO), which has helped put all our divisions and affiliates at the forefront of their respective industries.
We also continue to carry on the goodwill traditions of our founder, Mr U Chu Liang, who believed that besides being responsible to our customer, shareholders, suppliers and staffs, we must also contribute to the society through philanthropy and community service.
We at Bara,Windsor & Co., Ltd. look forward to the years ahead. They hold many opportunities for us, and we are intent on maintaining our position as one of thailand's business leaders.