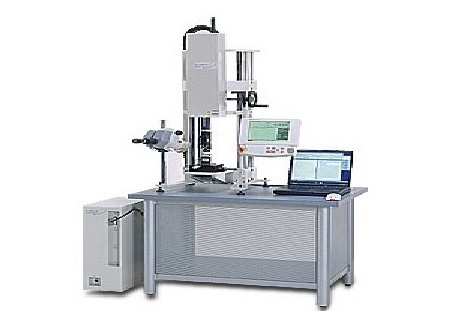 Micro Displacement and Test Forces Controlled and Measured to High Precision
In recent years, devices and components have become increasingly downsized and are being mounted at higher densities due to the trend towards thinner, lighter and smaller electronic devices equipment. Accompanying this, in the field of strength evaluation testing, there has been an increasing need for testing machines that can control and measure displacement and test forces on micro samples in the several µm or several mN micro regions and that can evaluate strength to high precision. The Shimadzu Micro Autograph MST-I has been developed and put onto the market in response to this need for a micro strength evaluation testing machine primarily in the electronic components sector.
[Features]
High-Precision Displacement Measurement
A high-precision linear sensor ensures high displacement measurement precision (displacement display resolution of 0.02 µm, and displacement measurement precision of ±0.2 µm up to 5 mm displacement).
Measurement of Micro Test Forces
A wide range of load cells from 0.5 N to 2 kN assures a testing force measurement precision of ±1 % from a minimum load of 2 mN.
High-Rigidity Frame
The frame has an extremely high rigidity of 45 kN/mm so that highly reliable micro displacement measurement can be performed.
Wide Range of Options
An X-Y stage, stereo microscope and other options allow positioning and observation of micro samples to be performed with ease.
The optional heating plate allows samples to be evaluated in a heated state.
Data Processing Software TRAPEZIUM2
The TRAPEZIUM2 software that already has a proven track record in the Autograph Series, can be used on the Micro Autograph, too. Its range of high-performance functions, including visual operating environment, ultra-high speed sampling, navigation function, and net upload function, can be fully utilized with ease.
[Specifications]
Model
MST-I typeHR
MST-I typeHS
Load capacity
±500 mN to ±2 kN
(load cell capacity can be selected from 0.5 N, 1 N, 2 N, 5 N, 10 N, 25 N, 50 N, 100 N, 200 N, 500 N, 1 kN, 2 kN)
Test force measurement precision
±1 % of reading up to 1/250 of load cell capacity
Stroke
±60 mm
Test speed
0.0012 to 30 mm/min
0.0048 to 120 mm/min
Displacement display resolution
0.02 µm
Displacement measurement precision
±0.2 µm up to 5 mm, ±0.2 µm 5 mm or more
Frame rigidity
45 kN/mm
Dimensions/weight
Main unit: 450 × 450 × 1400, 120 kg
Controller: 200 × 430 × 600, 20 kg
Operation unit: 275 × 50 × 260, 2 kg
[Evaluation Examples]
Solder bonding force evaluation of chip components, Bonding strength evaluation of solder balls, Bonding strength evaluation/tensile strength evaluation of bonding wire, Insertion force measurement of contact pins, Properties evaluation of metal foil, Single fiber tensile strength evaluation