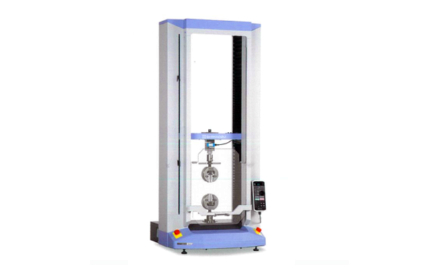 The Shimadzu Autograph AGS-X series provides superior performance and practical testing solutions for a wide array of applications. Offering high-level control and intuitive operation, the AGS-X series sets a new standard for strength evaluations while providing the utmost in safety considerations in a modern, stylish design.
Features
Convincing Cost Performance
New AGS-X Provides Practical, Affordable Testing Solutions
New AGS-X Provides Practical, Affordable Testing Solutions
Easy Control of Stress and Strain
Offers real-time auto tuning of control parameters, based on measured test force and strain data. Safely make comparisons to unknown sample data without the need for preliminary tests.
In addition, the AUTOTUNING FUNCTION easily performs strain control, an ISO6892-2009 requirement.
| | | |
| --- | --- | --- |
| | IRON & STEEL | In addition to conventional stress control, tensile testing with strain control is increasingly in demand. ISO 6892-2009 JIS Z2241-2010 |
| | PLASTICS & RESIN | Measuring the modulus of elasticity in the ultra-small strain domains proscribed by ISO and JIS standards has become a necessity. ISO 527 ISO 178 JIS K7171 |
| | CERAMICS | Many samples are damaged by microscopic displacements, so accurate control is needed, right from the start of testing. |
Achieve an Accurate S-S Curve with High-Precision Load Cells
The wide, guaranteed load cell precision range of 1/500 to 1/1 improves testing efficiency and ensures that virtually all of your testing can be performed without switching the load cell or jig. Furthermore, high-speed sampling of 1msec ensures no missed strength changes.
Smarter Work Space
New and enhanced functions support easier, more efficient testing
Common Joint for Both Tensile and Compression Tests (20-300kN frame)
Adopts a single joint for both tension and compression tests. This makes it easier to exchange jigs. In addition, the joint is set with a nut placed in the upper part of the loading cell, which allows for safe detachment of the joint on the table.

Easy Control of Stress and Strain
Conduct testing by calling up test methods from TRAPEZIUM LITE X software. The AGS-X can be used as a standalone tester to test specimens using test methods created with the tester itself.


Jog Controller (Option for 10kN frame)

This allows hand-held control of the crosshead position. The jog dial makes fine positioning a breeze.

Main Operation Panel
The main operation panel enables the development and storing of test conditions, allowing testing without having to connect to a PC. Perform various operations with the jog wheel, such as opening and shutting the button for automatic grips or the automatic extensometer. The main operational panel is movable, allowing convenient adjustment of the angle.

Multipurpose Tray (Desk-top frame)
Large space in front of the instrument. Perfect for placing jigs, arranging specimens, or taking notes.
Comprehensive Safety Measures
SAFETY FUNCTION / ONE-TOUCH STROKE LIMIT
The safety function stops the testing machine if force changes exceed a certain level during specimen setting or return. In addition, setting stroke limiters is easy with one touch of the switch.

SAFETY COVER
Controls scattering of the test specimen during testing. The interlock improves safety: operators can open and close it easily with the slide mechanism.

DUAL EMERGENCY-STOP SWITCHES
Features emergency-stop switches on both sides (20kN-300kN frame).
Cutting-Edge Software Meets Your Materials Development and Quality Control Needs
Improves Productivity and Efficiency of Quality Control