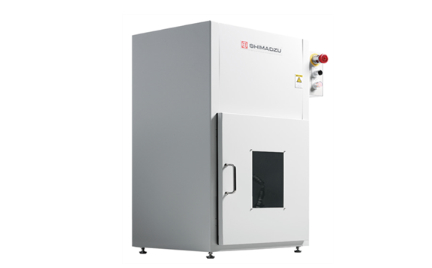 This unique instrument based on ultrasonic resonance allows:

– 109 cycle testing in 14 hours (compared to 39 days at 300Hz)
– 1010 cycle testing in 6 days (compared to 365 days at 300Hz)
Features
20kHz ± 500kHz test frequency
109 cycle tests in 14 hours (39 days at 300Hz)
1010 cycle tests in 6 days (365 days at 300Hz)
Stress Range: 100MPa to 1,200MPa
1000MPa steels may be tested
±50 µm displacement at end surface of horn
Recreates fatigue failure appearance from micro-defects and inclusions.
Resonance technique reduces power consumption compared to traditional fatigue tests.
Small tabletop design
Air-cooled, no oil or cooling water required.
Mean stress load option is available.
Configuration
Standard Components
Very high cycle resonance system
– Main unit
– Control box
– Power supply
– Piezo actuator
– Horn
– Air dryer
PC System
Very high cycle fatigue test control measurement software
Air compressor, non-contact displacement sensor, displacement calibrator and displacement recorder are also required.
Custom Tensile Loading System