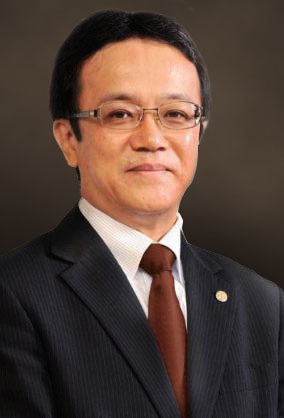 Teruhisa Ueda
President & Chief Executive Officer
Listening Carefully and Perfecting Our Technology, to Realize the Wishes of Mankind
"Contributing to Society through Science and Technology"
Based on this corporate philosophy that represents the pioneering spirit inherited from our founder, Shimadzu Corporation has continued to develop all our businesses for over 140 years since its foundation in Kyoto in 1875.
Our analytical and measuring instruments, and industrial machinery are now used for a broad range of applications in a wide variety of industries, where they serve society by providing confidence and convenience through the business operations of our customers.
Similarly, Shimadzu systems for medical diagnostic and treatment applications and new drug research and development applications help support doctors and researchers involved in protecting people's health in an ever increasing range of applications.
We take pride in the importance of working with customers to support industry and human health, but, at the same time, recognizing that society is currently undergoing major changes, we are now preparing ourselves to become an even stronger Shimadzu.
For that and other reasons, we will be investing even more effort into improving our scientific and technological capabilities, which represent the backbone of our business operations. For example, we will invest in more joint research programs with those involved in advanced research around the world. By using the knowledge and expertise we gain from joint research, we intend to accelerate improvements in the performance and usability of our products. We will also continue to invest in basic research aimed at developing new technologies.
In addition, we are working to improve our sensitivity with respect to listening to our customers. With the abundant diversity in the world today, it is doubtless not an exaggeration to say that there are as many different needs as there are potential customers. Therefore, to ensure that we identify customer needs reliably and respond as quickly as possible, we have built "Shimadzu Innovation Centers" in various locations around the world.
We often receive comments from customers particularly about wishes "for the well-being of both mankind and the earth." Currently, we have already launched several projects to help make their wishes a reality.
Thanks to scientific and medical technology advancements, our expected lifespan is now significantly longer than ever. However, there are still not many people who can maintain good health throughout their lifetime. So, what can be done to ensure all people can live with dignity? Even though progress is being made in using more environmentally friendly energy sources and materials, sustaining the lives of people around the world will require even more energy. Therefore, maintaining the health of the Earth will remain a major issue. Is there no way to produce goods and energy without emitting any hazardous substances? To solve such issues and realize "Our Wishes for the Well-being of both Mankind and the Earth," we must not neglect the effort to fully utilize our knowledge.
It will not be an easy road, but, our development thus far has been due to repeatedly embracing challenges and not fearing failure. When faced with difficulty, we should tackle them one by one, until we become a leader in this field and can provide advice to customers on their business and research operations. That is how we have inspired ourselves to continue being successful.
Therefore, to realize the wishes of mankind and contribute to society, Shimadzu Corporation is committed to keep embracing challenges.
Teruhisa Ueda
President & Chief Executive Officer