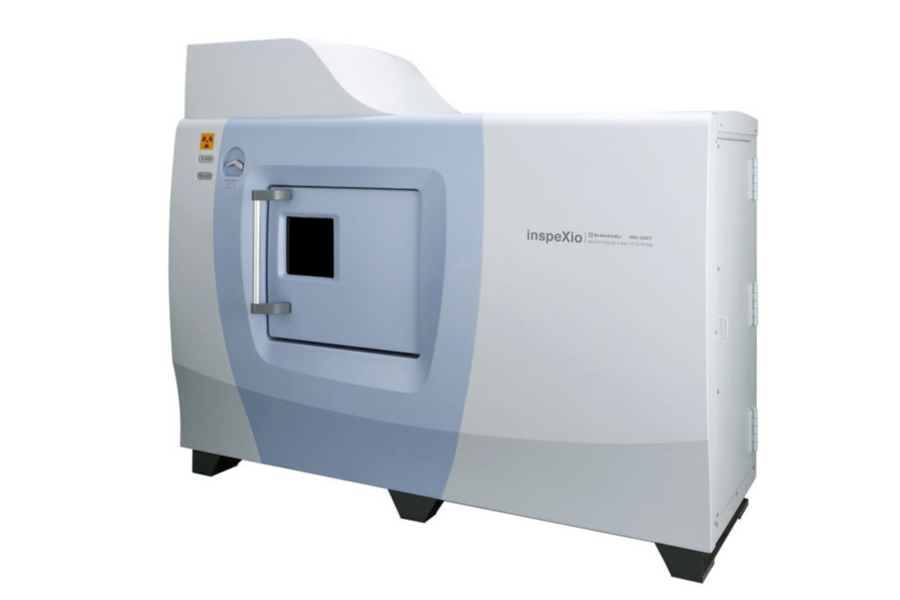 Top class image quality and operability
Featuring a proprietary microfocus X-ray generator and high-sensitivity X-ray detector, inspeXio SMX-225CT FPD Plus is Shimadzu's top-of-the-line microfocus X-ray CT system. An intuitive user interface ensures easy acquisition of clear CT images of a sample's internal structure. The new detector and spacious CT stage enable examination of even larger samples. This single instrument can be used for all kinds of applications, from ever shrinking electronic devices to die-cast aluminum automotive parts.
Basic System to Achieve High Performance
System Configuration and Operating Principle
The inspection target (sample) is placed between the X-ray generator and detector, as shown below.
Then, the sample is rotated 360 degrees to collect X-ray fluoroscopic data from various angles in order to calculate cross-sectional images.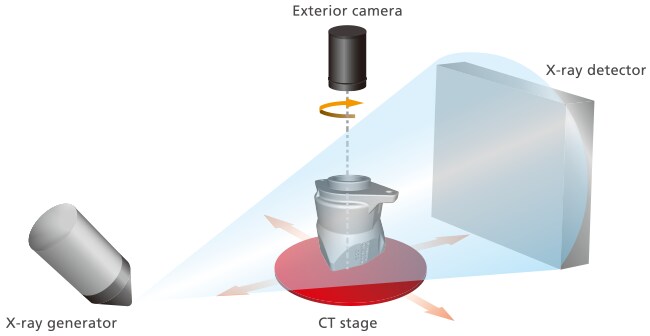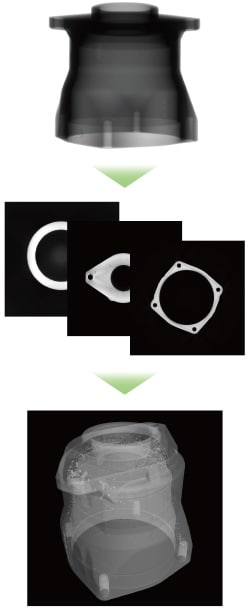 MPR Display(Displays any cross section desired)
Multi Planar Reconstruction (MPR) stacks multiple CT images in a virtual space to display four images—a CT image, mutually longitudinal section images, and a user-selected section image orthogonal to one of the longitudinal section images.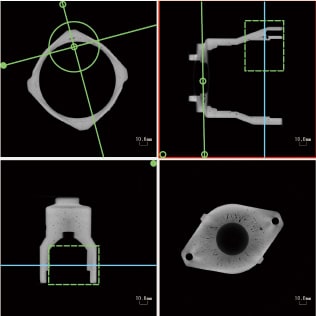 VR Display
Volume rendering (VR) stacks multiple CT images in a virtual space to display a 3D image. Separate 3D image processing software is required for VR display.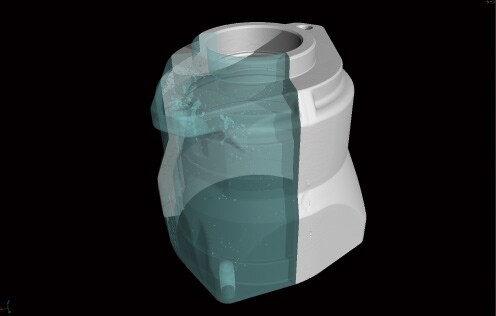 Easy and Fast CT Scanning
Intuitive User Interface
The new user interface features a simpler arrangement for intuitive operation.
| | |
| --- | --- |
| Main System Window | Displays the stage position, scan field of view, equivalent voxel length, and other information in real time (the yellow box), making it easy to scan images with the specified resolution and field-of-view size. |
| MPR Window | Displays slice, oblique, and double-oblique images, enabling the easy observation of cross-sections. |
MPR Window
System Window
Automated CT Scanning Function  
The new automated CT scanning function enables scan parameters to be specified easily.
Simply select the material, the desired CT image resolution, and the contrast level, and the system automatically optimizes the CT scanning parameter settings accordingly.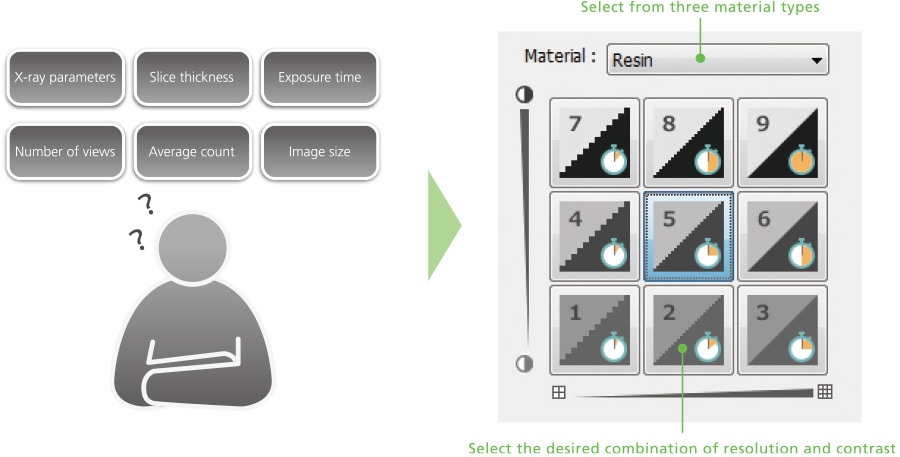 Obtain CT Images in Three Easy Steps
No calibration process is necessary before scanning. Scans can be started immediately after sample placement.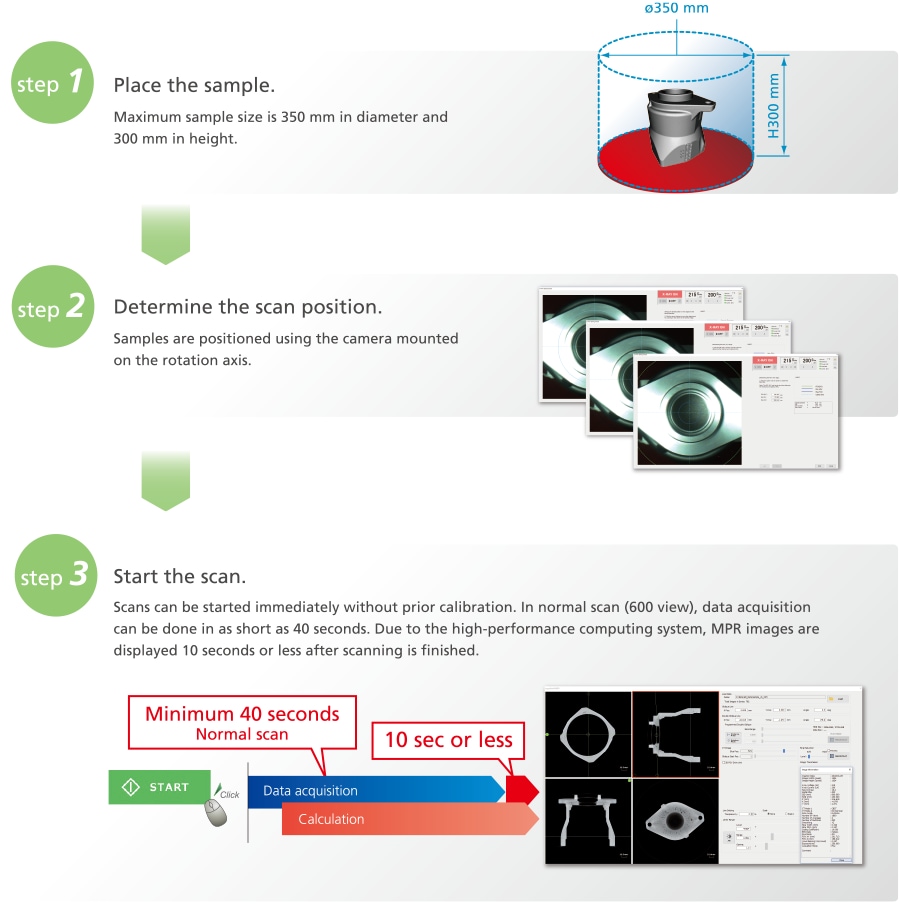 3D CT Scan Region Display Function
As the CT stage moves, the corresponding CT scan region is displayed and overlaid in real-time on the MPR display.
Based on the previous CT scan image, additional CT scans for areas of interest can be obtained.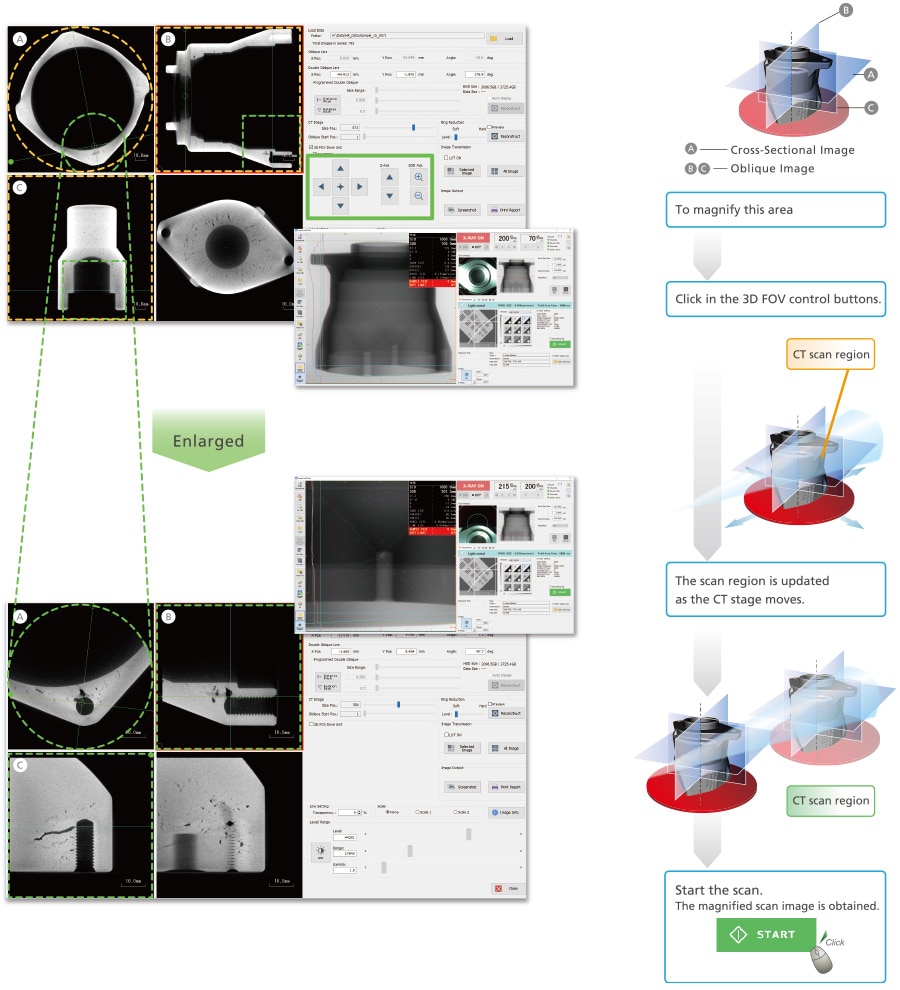 HPCinspeXio High-Performance Computing System ver. 3.0 
The HPCinspeXio high-performance computing system is around 50 times faster* than the previous version.
* When the fast acquisition mode is configured and the CT slice size is set to 1,024 × 1,024 pixels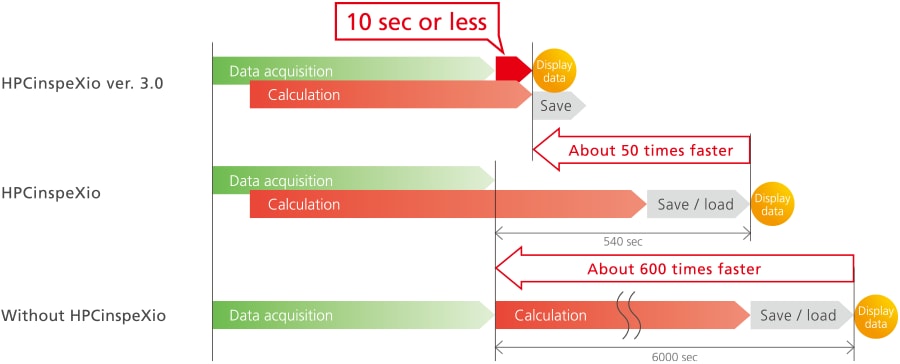 Even Faster 2,048 × 2,048 Pixel Cone-Beam CT Reconstruction 
The high-performance computing system is updated. The processing time for 2,048 × 2,048 pixels Cone-Beam CT reconstruction** is around 1.5 times faster than the previous version.
** Setting conditions: "Clear", 1200View, full scan, AUTO scaling factor, reconfiguration (2,048 × 2,048 pixels)


Unique Functions
Advanced 3D Image Reconstruction 

It is possible to enlarge only the focused areas in images once acquired and perform the reconstruction calculation.
High-magnification cross-sectional images can be obtained even in the works that enlargement ratio is difficult to be improved. Equipped with a high-resolution flat panel detector, clear cross-sectional images can be obtained even when performing reconstruction. It is not necessary to perform the CT scanning once again when performing reconstruction only.
Human Interlock Circuit (for X-rays)
This double-interlock circuit is installed in the sliding door to prevent X-ray emission while the door is open.
Human Door Interlock Circuit (for CT stage)
The interlock circuit stops stage operation when the sliding door is open.
Human Sliding Door — Injury Prevention Mechanism
This safety mechanism protects against any form of finger injury when the sliding door is closed.
To close the door, release the door safety Human lock.
Object Collision Sensor
Installed near the X-ray generator, this collision sensor stops the CT stage in an emergency (sample collision).
Object Software Limit Function
The software limit function, which can be configured to suit the sample size, helps to prevent collisions between the X-ray generator and sample.