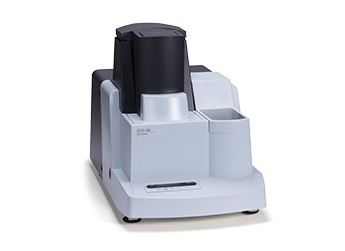 TG/DTA Simultaneous Measuring Instrument
Simultaneous TG/DTA improves ease of operation, sensitivity and analytical accuracy of conventional standalone systems.

If flexibility and high performance is needed in various applications, the new DTG-60/60H combines them all: Basic functions required by simultaneous thermogravimetry/differential thermal analysis (TG/DTA) measurements are improved. Atmosphere control is programmable. As in DSC, the TA-60WS provides advanced acquisition, analysis and report functions which ensure comfortable simultaneous measurements.
The DTG-60A is a new automatic DTG which defines new standards in autosampler technology. The built-in automatic sampler can easily be operated and programmed, compared to the complicated operation and setup of conventional autosamplers.
Up to 24 samples can be set up for analysis and additional sample trays can be used to quickly reload the autosampler, providing more than 24 hours of fully automatic analysis at one time.
DTG-60/60A Specifications
DTG-60
Model
DTG-60 (P/N:346-68450-92/93)
*-92:for AC120V, -93:for AC230V
Balance type
Parallel guide differential top pan type
Measured temperature range
Room temperature to 1,100°C
Measurable range
± 500mg
Measurable range
± 1000µV
Readability
0.001mg
Sample quantity
1g max, in gross weight
Dimensions
W:386 D:590 H:540(mm)
Weight
33Kg
Required power supply
AC100, 120V, 1300VA, 50/60Hz
DTG-60A
Model
DTG-60A (P/N:346-68450-92/93)
*-92:for AC120V, -93:for AC230V
Number of positions
24 samples per tray
Reference
Fix
Analysis and printing
Automatic analysis and print for template format
Dimensions
W:320 D:500 H:290(mm)
Weight
24Kg
Required power supply
AC100, 120V, 1300VA, 50/60Hz