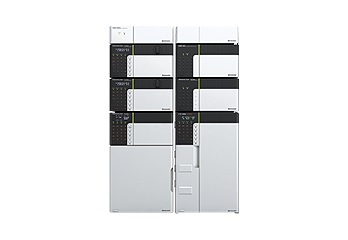 Laboratory applications for LC systems are very diverse, extending from the product development phase to verification of quality. Therefore, a modular all-round LC system that can be combined flexibly with other instruments to respond to all types of analyzers' needs is an essential laboratory tool.
Nexera is an all-round LC system like no other and is truly worthy of being called a next-generation UHPLC system. It uses revolutionary technology to offer high-performance ultra-high speed LC analysis and the flexibility to allow configuring systems for a wide range of applications, such as systems for general-purpose analysis or green LC systems that reduce the usage of organic solvents.
Maximizing Analytical Reliability
Micro-volume plungers provide precise solvent delivery and low injection volumes to achieve excellent injection reproducibility and extremely low carryover. The outstanding core performance capabilities of the Nexera provide highly reliable data in all types of application fields.
Maximizing Throughput
With a pressure range up to 130 MPa, high-speed injection, overlapping injection and highly efficient gradient mixing, Nexera enables ultra-high speed and ultra-high resolution analysis.
Maximizing Expandability
The Nexera column oven and autosampler, along with the modular flexibility of the system, expand the application range. These applications include high-temperature analysis, green LC, auto-sample pretreatment and multidimensional LC separation.
High-Performance Units
This family of units offers outstanding performance unaffected by flow rates or injection volumes, and excels in a wide range of applications, from general-purpose analysis to ultra-high speed and high-separation analysis, to accommodate any customer requirement or application.